The search engine optimization (SEO) world can be tough, particularly for small or medium-sized businesses in the financial and fintech industries. With big budgets and many resources, some companies seem to rank for everything.
But that shouldn't discourage you.
You can employ specific strategies to outrank your competition and dominate search engine results- even if you have a small site.
3 Myths About SEO for Finance Services
1. Bigger budgets mean better results – Not necessarily! Sure, a bigger budget can help you get more done in less time. But, it doesn't always mean your competition is doing a better job at SEO than you are. If they were, they would have already taken over the top spot.
2. It's nearly impossible to compete with sites with tons of backlinks and high domain ratings – This may have been true 10 years ago, but today, quality trumps quantity. So, as long as your backlinks are coming from high-quality websites, you can outrank competitors with more backlinks from lower-quality websites.
3. Many of them have tried "SEO" and have seen little results, so they assume it doesn't work for them – SEO takes time, patience, and consistency. If you've only been working at it for a few months, you'll unlikely see results overnight. However, if you keep at it and track your progress, you will eventually see results.
If you're ready to beat your competition at SEO, contact us today! We'd be happy to help you develop a strategy that works for your business.
Assuming that new or small sites can't rank well on Google is a common misconception. Just because a site doesn't have many backlinks or traffic doesn't mean it can't rank for valuable keywords.
We've successfully used our targeted SEO to help smaller, newer sites rank well in Google and generate qualified leads. Our strategy involves targeting long-tail and SEO keywords for financial advisors, creating quality content, and building strategically-placed backlinks.
By targeting less competitive and more specific keywords, smaller sites can still rank well on Google. And by creating quality, informative content, these sites can attract the attention of both search engines and human visitors.
Finally, by building a few strategic backlinks from high-quality websites, smaller sites can tell Google that their site is worth paying attention to. While it may not be easy to compete with the big guys, it's certainly not impossible.
Even the smallest site can succeed in search engine optimization with the right strategy in place.
In this article, we will share the strategies that we use to help small and medium-sized companies in the financial services companies compete for rankings with the "big boys."
What our Financial Services SEO strategies involve
Being more strategic in the keywords, you target
Writing individual pieces of content to match the search intent of each keyword.
In this section, we'll look at these two ideas in turn. Then, in the end, we'll take a look at an optional strategy for high-quality link creation that can speed things up even more.
Principle #1: Being more strategic in what keywords you target
Mistake
Most smaller companies spend their money and resources targeting only 1-3 keywords. They have a false view that those are the only keywords worth ranking for, and if they don't, they conclude that SEO isn't working and has no potential to drive ROI.
Example:
Financial planners spend all their efforts trying to rank for "financial planning."
A fintech or Accounting app developer trying to rank for the term "accounting app."
You're probably wondering what's wrong with that. The keywords sound viable and have great buying intent, but you shouldn't go for them immediately if you're new to SEO.
Companies ranking for such keywords usually have extremely strong domains, well-known brands and have spent thousands of dollars to win and protect those keywords (mostly through tons of links to the ranking page). Also, they have bigger budgets to spend on content and SEO.
But, it's definitely a huge battle if you're a smaller company trying to compete with industry giants for those terms. You'll likely spend a lot more time and money trying to get similar results (leads and sales) from SEO.
And if this is your entire SEO strategy and doesn't work (or takes forever to rank), you'll get discouraged and wrongly conclude that SEO doesn't work for us.
Solution: Get more specific keywords that tie to your product or service differentiators
Here's a better approach; Our SEO strategy for the financial services sector is that your company should go after long tail, high intent keywords first, then move your way up the funnel over time as your domain authority builds.
Specifically, target keywords that map the competitive advantage that your product or service has over your competition.
Let me show you an example:
1. Financial services client: A financial planner whose differentiator is to help small businesses, dentists, and physicians pay off their student debt and buy a medical practice.
What we didn't target immediately: "financial planner" or "financial advisor."
What we targeted instead: "financial advisor specializing in student loans."
Why: the strength of their business is student loans for dentists/physicians who want to start their own practice. So anyone who enters that qualifier "specializing in student loans" into Google is looking specifically for their services. That's extremely high intent and a great example of one of the top keywords for financial advisors.
2. Fintech client: An accounting software made for sole traders in Australia.
What we didn't target immediately: "Accounting app" (this is way too competitive with sites like Quickbooks Online, Freshbooks, Xero, Sage, etc.).
What we targeted instead: "Best accounting app for sole traders, "Accounting apps for sole traders, "Accounting app for Australian sole traders, "Sole trader accounting software app."
Why: They're one the only solutions to support an Australian sole trader with their accounting, invoicing, and tax obligations. Therefore, it's a competitive advantage that the large companies aren't competing for in the search results. They also mainly help sole traders automatically reconcile their transactions and get paid quickly- therefore, these terms are much less competitive and easier to rank for.
This is the foundational principle behind our financial SEO, and it works.
All these keywords are far more specific than just going after category definition terms like "financial planning or accounting app."
Plus, the guiding principle to our financial SEO strategy is that these keywords all have a high purchase intent. People Googling for them are the exact audience we want to get in front of. They don't need to be problem aware or solution aware. They don't need to be educated about what they want. They don't need to be dripped with content on email lists for months.
Googling for these terms tells you that you are actively looking for a solution like yours right now. They're ready to buy.
Principle #2: Create a conversion-focused piece of content or page for each keyword you're targeting
The mistake
In addition to the problem with keywords strategy for small websites, there is also a content problem. Most companies try to have a few pages and posts on their financial services website to rank for all their targeting keywords.
We have discovered how the problem originates.
They work with some SEO companies/agencies/consultants that do an audit of their financial services website, try some technical fixes, and pick some keywords they should target (including super competitive categories we discussed above)
The SEO company tries to optimize a few existing pages around those keywords, such as the homepage and services pages. They often recommend you spend your SEO budget on link building or social media marketing to try and get those pages or posts to rank.
But we discovered that most often because most SEO service providers don't specialize in producing unique conversion-based content to rank for those keywords. They focus on optimizing the content you already have.
Solution
Create pages or posts for each keyword you target because the search intent of most keywords is always unique. Create a specific page or post for each keyword if you want to give yourself the best chance of ranking for each target keyword.
That means a lot of work, but good SEO takes time and work. Everyone would rank if it were easy to rank for high conversion keywords.
The key is to carefully analyze what's already ranking on page 1, using what you already understand about your customer's pain point and the different layers of search intent behind the search query. Then write a single post or page aimed at nothing else but satisfying all the different layers and nuances of the specific keyword intent.
For example, the keyword "financial advisor specializing in student loans" for our client.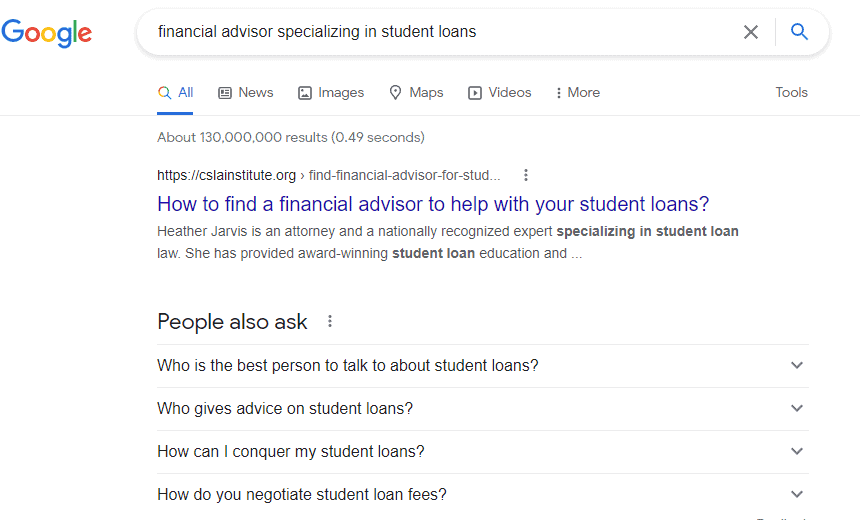 We note that there are multiple layers to this search intent, which we glean from what's already ranking on page 1.
People want to know the best person to talk to about student loans, want to know who advises on student loans, they want to conquer student debt.
There's basically no chance we're going to modify the home page or service pages to include different parts of the search intent of this keyword. So we create a blog post instead- which is likely to rank #1 for that term.
Common Objection: Blog posts convert less compared to service/product pages
A common misconception is that blog posts convert less than service pages and the home page, but that's not true. Blog posts we write for smaller sites are conversion-focused and heavily sell their products and services.
Most people believe that blog posts are best for top-of-the-funnel content. But in our case, the blog posts we create go after keywords that are heavily product or service-focused. As a result, they convert well because most of them sell their products or services.
So if you do a good job at selling your products or services in the post, you'll later realize your conversion rate is higher than marketing site pages.
Optional: Build links to your pages
Finally, once you've identified the right long-tail buying intent keywords and produced unique content for each of them, getting links to each of your posts will assist with how quickly the pages rank.
Typically, people believe that they must create hundreds or even thousands of links to their site to rank their content. However, we've discovered that this isn't always the case.
Because the financial SEO strategy we outlined in this article focuses on targeting and creating articles for specific terms, we'll frequently see that building a few links to these pieces will get them to rank on page #1 of Google. However, some articles have ranked well without any international link building in many cases.
If you have a domain rating of less than 30, we often focus on building your site's authority by publishing more content frequently and consistently. We build your authority via RP link building as part of our engagement with you, followed up with individual links to articles we publish.
SEO for financial services in a nutshell
SEO for financial services is all about understanding your customer's pain points, strategically finding keywords around the pain points, and creating content that addresses those issues. You need to target long-tail buying intent keywords and create conversion-focused and unique content. If you do all of this correctly, you'll see an increase in traffic and conversions from your website.
Do you want to collaborate with us or learn more about how we do content marketing?
Our Agency: If you'd like to work with us on content marketing in this manner, learn about our services and our framework here.
Let the experts at SEO for Financial Services take care of all your SEO needs so you can focus on what you do best – running your business!
I'm an ex-banker, agency owner, and SEO & Content Expert for Financial Service Providers & Personal Finance Bloggers. I leverage my 15 years of expertise in financial writing & SEO to drive more traffic to your blog. Whether you want more traffic to your website for new customers, Ad revenue, or affiliate sales, I can help.